Another year has gone by! Right around this time, we find ourselves wondering where all the months have gone. This makes it the perfect time to take stock in the year's events and reflect on how we've grown.
A Year in Review lets us see from a bird's eye perspective just how far our team has come,  how our stories have evolved and where our company is going. So join us as we remember iVenture 2018.
Team Highlights
---
"Culture is the soul of the company," says Jen Korsun, director of people operations. "It's what makes people come here, and it's what makes them stay." For us, culture isn't an afterthought. It's a guiding factor for all that we do, and it shows through the decisions we make, the processes we implement and the events we participate in.
This year, our event roster was packed! We had opportunities to connect with coworkers, help the community and have great time together. From quarterly office outings to volunteering and plenty of parties, 2018 was a great year for team bonding.
Spring
Spring brought fishing trips, ice cream socials and even a company picnic. In April, we had the opportunity to work closely with our client, Center for Independent Living. Together, we built an accessibility-friendly ramp for a man in need. Seeing him with move with ease helped us appreciate what a community can accomplish when they work together.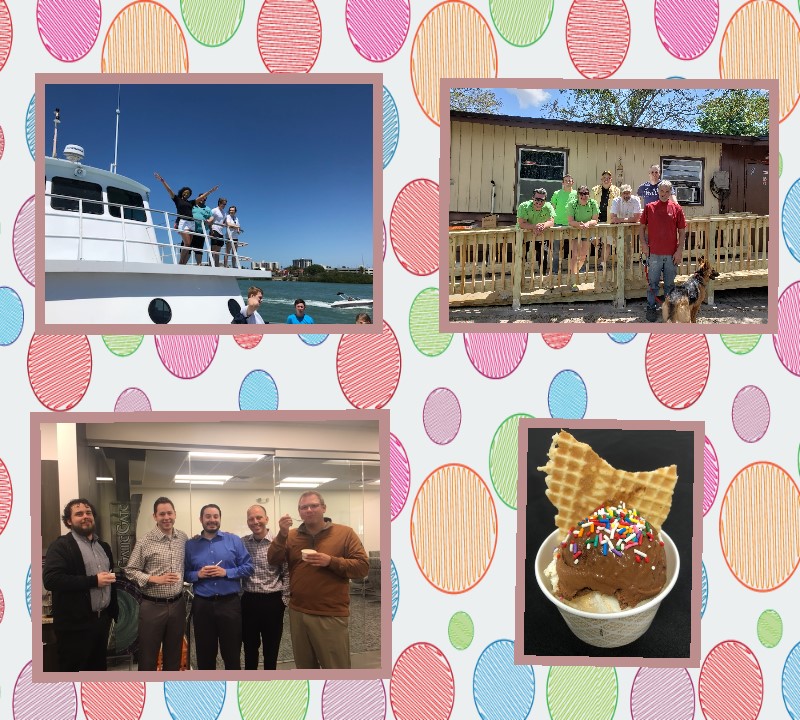 Click the picture for a closer look!
Summer
All summer it was food and sports! We practiced our swings at Drive Shack and cheered our Jacksonville Sharks to victory. We also made time for delicious lunches like our Freedom Social, also known as Fried Chicken Day. And of course, it wouldn't be summer without tailgates and cookouts. Our team had a great time grilling and showing their sports pride.
Click the picture for a closer look!
Fall
In fall, we celebrated our 18th year of business, raced cars at Andretti Indoor Karting & Games and went all out for Halloween. We crowned our ultimate chili cook-off masters, gorged on turkey at Thanksgiving potlucks and cooled off at a Jacksonville Iceman hockey game.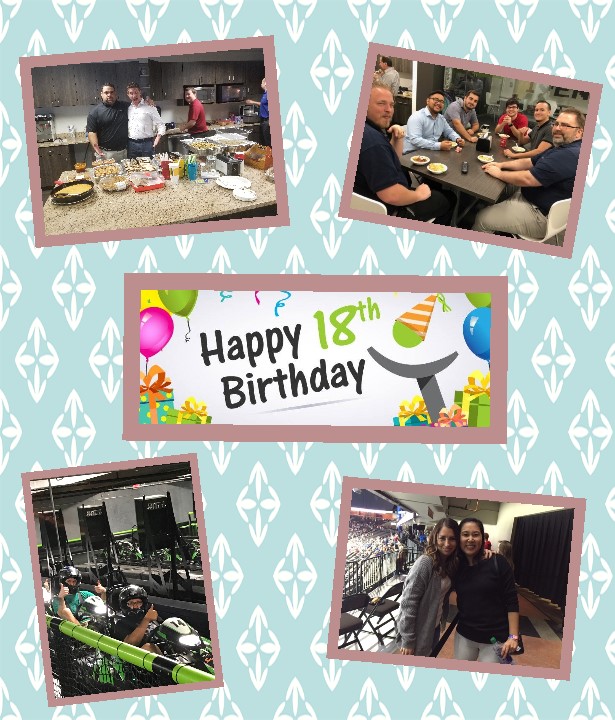 Click the picture for a closer look!
The most rewarding parts of fall were our community efforts. At Davidson Cares Clay Day,  we had the opportunity to raise money for kids in need. And partnering with Project Aware, our Jacksonville team cleaned the beach. It was a great feeling to see everyone grab a bucket and get to work picking up litter along the sea.
Click the picture for a closer look!
Winter
Winter really got us in the festive mood. With Christmas tree decorating and our first ever Ugly Christmas Sweater competition, we got in the holiday spirit. We partnered with our client, Family Support Services to participate in an Angel Tree program. This gave us an opportunity to help kids in need have a wonderful Christmas. Winter culminated in our annual Christmas Party, this time held at One Ocean Resort. It's always a great time to reconnect with fellow team members, eat delicious food and hopefully win a prize!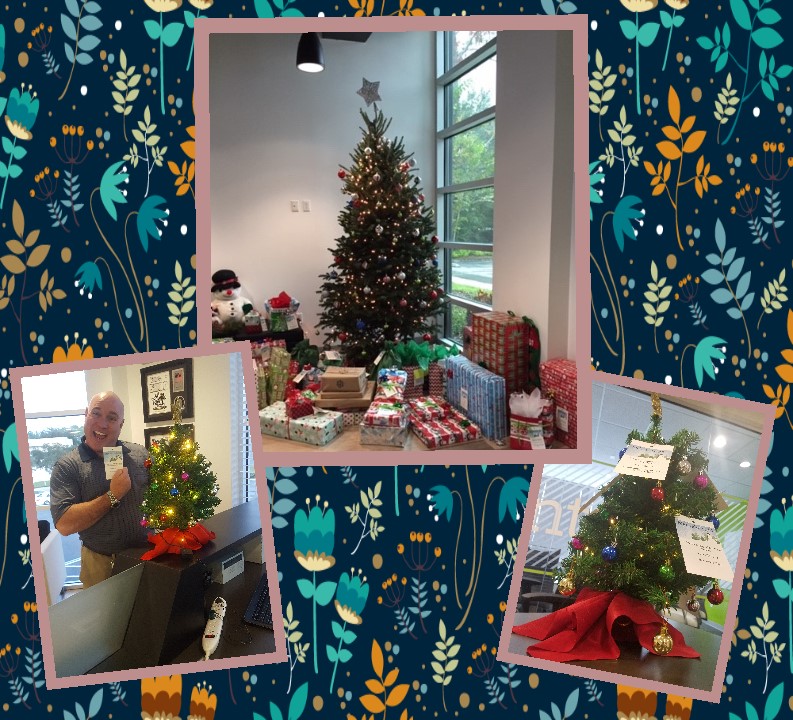 Click the picture for a closer look!
"Creating and maintaining a culture ensures we're investing in our company," says Rachel Palompo, HR coordinator. That investment wouldn't be possible without our amazing team. It's why we work hard to find the right people to join iVenture. This year alone, we added more than 40 new hires. But it's not just external growth we strive for, it's career advancement too. Promoting from within is a top priority, and with over 40 internal promotions this year, we're proud to be meeting that objective.
Editor's Picks
"Today's business owners are faced with many problems. Technology doesn't need to be one of them," says Brady Sweet, director of sales and marketing. That's the focus of our company, and that's the focus of our content. We want to change the relationship people have with the tech they use every day. And this year brought plenty of new and exciting content. Our experts from across the company have been incredible in helping people understand IT better.
Covering the basics of IT to the specifics of cloud computing, managed service providers and more, these are our favorite articles of the year.

Think you know how IT companies work? Think again. This dive into our company gave audiences a real look at what makes us different from the rest. From concrete descriptions of our brand promises to explaining what a dedicated service team really brings to the table, this is a great read for those who want to understand what iVenture delivers.

You may have heard the term "MSP" before, but what is it, how did it evolve and why is it worth your time? This article provided an essential break down of the managed service provider business model. Delving into the benefits of MSPs, such as proactive management and predictable spend, viewers got a look into how MSPs compare to break/fixes.
"A business-friendly approach to technology should be refreshing. That's what we strive for in every article."- Brady Sweet, director of sales and marketing

Many of us use IT everyday, but have no idea where it came from. This entertaining history lesson provided readers with everything they'd ever want to know about information technology. Starting with a definition and ending with how IT impacts the world, you become an expert by the article's conclusion. We felt this article was an important insight into something that most people never think about. And it left us feeling more appreciative of the evolution it took to get us here today.
It's simple: creating a positive work environment results in better performance and satisfied clients. It's what we do at iVenture every day, and it's something that every company should strive for. When we realized other IT companies could benefit from it, we compiled our top 10 methods . Really, these methods can apply to teams of any industry because it's all about the human element. Our favorites are #1, #10 and definitely #6!
Besides tech support, there are four important functions your IT provider should serve. Some IT providers try to get away with just one, but this article highlights why all four are necessary to get the most out of your partnership. If your MSP isn't a resource, guide, facilitator and guardian, we'll show you what you're missing out on.
"My favorite post is Roles of a Managed Service Provider. It puts into perspective how valuable having a partner that focuses on technology can be."- Mallory Thomas, marketing manager
If you live on a coast like we do, hurricane season is prep season. But we noticed a lot of businesses forget to prepare their technology too. We realized that at home, people know what to do. When it comes to their business, that's another story. So we shared six ways businesses can save their data, technology, money and time! It's a must read for any business because these methods can be adopted for all natural disasters.
Is the cloud right for your business? It plays an important part in our digital lives, and it offers big benefits to businesses looking to maximize resources and profits while maintaining top security. We love this one because it's a history lesson that answers "Okay, so what?". Cloud computing is a technically-heavy topic, but this article does a nice job of condensing the information and relating it to what businesses want to learn about.
Every October is National Cybersecurity Awareness Month! Which means it's the perfect time to learn what businesses can do year-round to protect themselves. An audience favorite, this article explored the perspectives of employees across our company. Readers got to know our team while learning helpful tips to improve their cybersecurity. The variety and depth of answers meant there was something for everyone to take away at the end.
"I loved writing Expert Takes because it gave me a chance to hear different perspectives on one topic. To see the response from a technical team lead versus a systems administrator showed how their expertise influences their perspective."

– Ashley Montgomery, content writer
Looking Forward
As we round out this year, it's important to think ahead to what 2019 will bring. Gray Mabry, iVenture co-founder and CEO, shares his thoughts on 2018 and vision for next year.
"In 2018, we invested in amazing opportunities. Just this year, over 30% of our staff was promoted, and it's a special thrill to make that happen. It's also thrilling to see how
this engine we've created is driven by both our valued employees and happy clients. It's important to recognize that a successful company is made possible only if the employees and clients are great — we're lucky to have both.
The challenges I see in 2019 are similar to the ones in 2018. There's a steady demand for qualified IT professionals, especially at iVenture because we're searching for expert knowledge and positive attitude. It takes work to meet that goal, but with strides in our internal training and recruiting processes, we've surprised even ourselves. It's something we'll continue to invest in moving forward.
Every year, what really gets me is when I walk through our annual holiday party and see everyone together. I'm reminded how our employees and their families are impacted by iVenture's success. And I'm humbled when I think about how many people got us here over the course of 18 years.
I'm excited for next year because we'll make sure opportunities keep coming. There's no doubt in my mind we have the best team; one that provides incredible service to our clients and to each other. Not a day goes by that I'm not grateful to be with iVenture and happy to see us grow."
iVenture Solutions is an award-winning managed service provider delivering superior IT solutions to clients across Florida. As a leading-edge IT firm for small and medium-sized businesses, we provide a diverse range of services covering the entire scope of IT including maintenance, support, hosting and more. Through rapid response time, reduction of chaos and the right people, our expert team of IT professionals will fulfill your technology needs. At iVenture, we give you more time to do what matters most.